Leadership Dance, Leadership Yoga
Both the Leadership Dance and Leadership Yoga workshops came about in the same way. I was teaching undergraduate courses in leadership at Trinity University and taking ballroom dance lessons or yoga teacher training. (Not at the same time – yoga teacher training came first). But in both situations, I began to see new ways to think about leading and about teaching leadership. Those insights into leadership grew into two distinct workshops. Both workshops have proven to be popular and effective ways to encourage participants to think about leadership. Both workshops are extended metaphors inviting participants to learn kinesthetically, a form of learning that we rarely consider in leadership training. Each of them allowed me to bring new and different parts of myself into the classroom at first and then later in my leadership and consulting work. Each gives me new ways to think about the work we do.
Leadership Yoga
While learning to teach yoga, I began to realize we talked about some of the same ideas as we discussed in leadership classes.
Strength – a necessary attribute for both yogis and leaders
Balance – important across all aspects of our lives
Stretching – being able to reach for new possibilities
Breath – breathing is a core yoga practice and can benefit us in all aspects of our life.
Leadership Yoga reminds us that leaders often ask their colleagues to try something new, i.e. put themselves in unfamiliar and perhaps uncomfortable positions, or one might say, stretch. Balance practice in the workshop teaches us that balance is not static. It's not achieved once and then maintained, it is a way of living and moving throughout the day.
Leadership Dance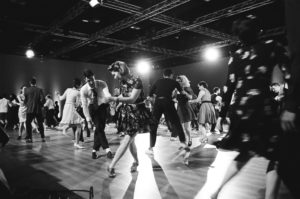 After who knows how many ballroom dance lessons and classes, I was in a lop-sided beginners' class and decided to move to the leaders' side of the room. I already knew what it was like to dance with leaders who had a wide variety of skills. It was my first time to lead beginner partners. It was enlightening. Some partners were easy to move with, others felt as if their feet were glued to the floor. Some partners were light-hearted, others were panicking. And I had to remember not only the patterns for my feet but what I needed to do with my torso and arms to convey the signals they needed. Hard work by itself, but the skills and attitude of my partners made such a difference in my ability to lead.
From this experience, the central message of the Leadership Dance was born: "You can't dance with partners who won't move their feet." This, and subsequent, experiences taught me an obvious, but not always acknowledged reality. The best leaders are those who dance with the best followers. And it's true in our organizations as well. Leaders are limited by the skills and attitudes of the people they work with. In the same way, followers can't achieve much with poor leaders. It really does take two to tango.
Extended Metaphors
I've found both of these extended metaphors to be helpful teaching frameworks. What metaphors have helped you understand leadership in new and different ways? What creative ways have you developed to help others understand the work of leadership differently?