August is such an interesting month, isn't it? Here in central Texas it's bakey-hot. Regularly breaking the 100º mark and still 80-something at midnight. And yet it's the beginning of Fall for those of us in higher education or with school-age children. And of course, this is a particularly *interesting* August. For all I don't like the heat, I still love this time of year and following the lead of a newsletter I read, here are six things to I'm enjoying as summer ends.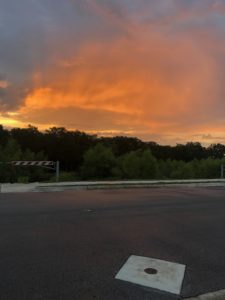 1. Walking in my neighborhood. Round and around I go, covering the same streets every morning, but I love my new morning routine. There are a group of us who are out and about most mornings. We don't know each other except as fellow walkers, but we smile, wave, move off the sidewalk to make sure we have plenty of room, and continue on our perambulations. And since the heat necessitates an early morning walk, I see sunrises, deer, amazing flowers, and this morning I stopped to listen to hawks calling to each other. There is much to savor. (The pictures are from my recent walks.)
2. The long days of light. I'm one of the few people in the world who doesn't mind the shift back and forth for Daylight Savings Time. In Texas, it may be the only way to know the season is changing. I love the long days of light in the summer.
3. Poetry. Lately, I've found a couple of poetry podcasts and I'm enjoying listening to poetry as I walk in the morning. Marilyn Nelson is a particular favorite joining David Whyte, Marge Piercy, and Naomi Shihab Nye as people who always speak to me.
4. Kool-pops. A childhood favorite. Nothing but sugar water of course, but a fun treat on a hot day.
5. Needlepoint. It had been a long time since I completed a needlepoint project, but I've enjoyed returning to the hobby. I didn't know it was possible to binge on needlework, but I've found some fun projects to do though I have no clue what I'll do with any of them because I don't particularly like the work of making pillows. Anyone want a pillow front – free to a good home!
6. Silliness. A few years ago, I discovered the Bulwer-Lytton contest. It's a contest to see who can write the worst first sentence of a non-existent novel. It's named for an author who supposedly wrote the line made famous by Snoopy, "It was a dark and stormy night." I've shared a few of my favorites below with a link to the website if you want to explore further.
I know August is always a challenging month and this year, it's even more challenging, but I hope each of you are finding some things to savor here at the end of the summer. It's important to recognize what's good in the world even, or perhaps especially, when times are tough.
Take care,
Gage