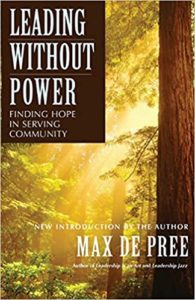 Occasionally, I look at prior newsletters from UTSA and UT Austin to trigger ideas about topics, but today, as I am on the road, I'm going all in and just reprising an oldie. This is from the UTSA newsletter in August of 2009 and I've left in the UTSA specific references. Max De Pree is one of my favorite leadership authors. I like his formulation for defining "places of realized potential." I said then and still agree that universities are expected to be such places. But of course, it's up to all of us to do the work of creating places where employees, students, and clients can realize their individual potential and in doing so support the potential of others. I hope you find his ideas as interesting as I did when I wrote about them several years ago.
Places of Realized Potential
…potential is wrapped in mystery. Like rainbows…potential never reveals itself entirely."*
What is this thing called potential and what does it mean to realize it? De Pree, former CEO of Herman Miller Furniture Company, rightly compares it to rainbows, mysterious and hard to capture. Even as adults, catching a glimpse of a rainbow is magical in some way. I bet most of us have a rainbow or two we hold in our memories – a full arc double rainbow out over the ocean, or a rainbow that arched over the UTSA campus and ended in the Rec Center parking lot – I know because I could see it from the indoor track windows. I never did see where the pot of gold was, but the magic of seeing the end of the rainbow stays with me.
It seems to me that universities in general can, and should be, what De Pree calls "places of realized potential." As any employer would, we hire people based on our belief in their ability to do a job, their potential to make a positive difference. Even more than that, we admit students based on their potential to succeed academically. We develop programs and services that are designed to help them learn and grow – in other words to help them realize their potential. Encompassing all of that, UTSA is trying to reach its potential as a place of access and a place of excellence as we strive toward being a nationally ranked research university while not losing our mission to serve under-represented students.
As employees we are integral to every part of this work. We are engaged in moving UTSA forward, being creative in our work and open to new ideas as we find ways to be part of UTSA realizing its potential. As employees, we are critical to supporting and challenging students as they work toward realizing their potential. As employees, each of us finds ways to make work meaningful for ourselves and each other; we work towards realizing our potential on a personal level as well as on the job.
"…our society badly needs organizations and people that move relentlessly toward realizing their potential."*
De Pree indicates several ways to determine whether or not an organization is a "place of realized potential." They are listed below. I encourage all of us to look at them and see how our small part of UTSA measures up. Yes, this university is a large place and individually we can't change all of it, but we can influence our small part. As more offices, programs, and departments become places of realized potential, the effect will grow. It will take each of us working "relentlessly" to achieve our own potential, and just as "relentlessly" to support our students and each other. But, as always, I know the work we do is work worth doing and that makes all the difference.
Day-by-day we have the potential to make a positive difference in the lives of people around us. What are you doing to work "relentlessly toward realizing [your] potential," students' potential, and UTSA's?
De Pree's Characteristics of Places of Realized Potential
"A place of realized potential opens itself to change, to contrary opinion, to the mystery of potential, to involvement, to unsettling ideas."
"Places of realized potential offer people the opportunity to learn and grow."
"A place of realized potential offers the gift of challenging work."
"A place of realized potential sheds its obsolete baggage."
"A place of realized potential encourages people to decide what needs to be measured and then helps them do the work."
"A place of realized potential heals people with trust and with caring and with forgetfulness."
"People in places of realized potential know that organizations are social environments."
"Last, a place of realized potential celebrates."
Take care,
Gage
* DePree, Max (1997). Leading Without Power: Finding Hope in Serving Community. San Francisco, CA: Jossey-Bass Inc., Publishers.