A Tale of Three Roommates (Part 2)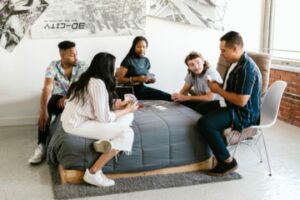 "Don't worry. Remember, she was a slow starter in high school and that turned out okay. It'll be fine." That was my younger brother reassuring my mother who, apparently, was worried about me during my first year of college. I learned about this conversation long after it had taken place. When I did learn about it, I was surprised to learn my mom had been worried. Even more surprising was the insight of my brother. I would never have imagined that he was paying that much attention to me during our high school years or that he would have put those experiences together with my college experiences. I certainly hadn't understood the pattern even as I replicated it by spending my time studying and studiously ignoring all that was going on around me. Even football games.
Football is kind of a big deal at the University of Oklahoma – in case you didn't know, that's what's known as an understatement. And in the fall of 1975, OU won the national championship. There was a hierarchy for students to get their season tickets: seniors, graduate students, juniors, sophomores and last of all freshmen. There were plenty of tickets for every student who wanted one for except the big interstate rivalry game with the University of Texas. To get one of those as a freshman, you had to be at the front of the line. A group of residents from both Walker 9 East and West decided to camp out overnight to be at the front of the line when the box office opened, even though a rainy cold front had come through. Spend a night in front of the stadium, in the cold and rain, with a group of strangers? I have to admit that didn't sound like fun at all and I passed on that opportunity. Of course, since student tickets were season tickets, that meant that I had no one to sit with other than my roommate, of course. I think we went to one game, but I don't think we stayed for the entire game. It was entirely too hot.
I certainly can't blame Debbie for my unwillingness to step out of my comfort zone. As my brother had noted, it takes me a while to find my way. Luckily for me, Debbie's mom found a way around one of OU's policy that, quite literally, pushed me out of my room.
Debbie's mom had been determined that her daughter join a sorority and, once she did, she was equally resolved that her daughter needed to move to a sorority house as soon as possible. The general rule was that students couldn't move into a sorority or fraternity house until their sophomore year. But somehow Debbie's mom wrangled her an exception. (Now I suspect that sorority house needed residents for financial reasons.) But whatever the reason, at the end of the semester Debbie packed up everything when she went home. When I returned in January, the other half of the room was empty.
That's when I learned about the policy of 'consolidation.' I had a choice. I could stay where I had all my belongings and pay for a single room or I could consolidate with someone else in a similar situation. I ended up moving down the hall to live with Donna. If Debbie and I were too much alike, Donna and I were too different.
It's not literally true that I used the room at night and she used it during the day, but it felt like it. We were neither one happy with the other's inability to be quiet while we were asleep. Donna was a party girl and our shared countertop in front of the only mirror in the room was often sticky with orange juice after she made her favorite Screwdrivers. And no, we weren't supposed to have liquor in our rooms. No one would ever call me a neat freak, but Donna was a slob.
One of the downsides of the suite design is that four residents have the shared responsibility for cleaning the bathroom. The university supplied us with toilet paper, but everything else was up to us. Four people taking turns cleaning on a weekly rotation would seem to be a logical, reasonable system, but Donna often ignored her turn. My suitemates and I were frustrated with her because she wouldn't clean the bathroom and she was frustrated with us because we wouldn't let it go.
Luckily for me, these suitemates became good friends and welcomed me into their room when I needed a place to go, including the time Donna locked me out of our shared room after yet another disagreement about the bathroom. There was a positive side to this uncomfortable situation since it encouraged me to leave my room. Going to dinner with my new suitemates, sitting with them and their friends, studying out in the lounge rather than in my room, leaving my door open and saying hello as people walked down the hall were all important changes I made in my second semester.
I still avoided the rowdier, drinking parts of life in the residence halls. I didn't magically become an extrovert, and I often left to spend the weekend with one or the other of my grandmothers, but I did begin to find my way. I did, ever so slowly, begin to show up for more than class. My new living situation helped me move into the world of dorm life. Not campus life yet, but it was a first step.
As I mentioned last week in Part 1, anyone who has ever worked in residence halls for any length of time has worked with someone who has had a difficult roommate. We've also talked with a parent or two who is concerned because their student doesn't ever leave their room or doesn't seem to be making any friends. Often, unlike predictable me, the parent is surprised. The extraverted hyper-involved high school student turns into the student who never leaves the room. The high school student who was the class nerd finds other nerds and blossoms on a college campus. As in everything we do, we each have to find our own way, in our own time. In my second semester, I was lucky enough to find a living situation that pushed me to step out of my room in a way that worked for me. Turns out having a difficult roommate situation isn't so terrible.
Take care,
Gage