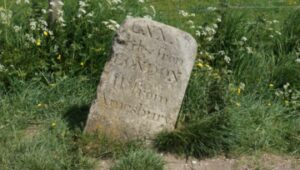 Milestones. Sometimes they show us the way. Sometimes they show us where we've been. Sometimes they feel more like millstones around our necks because we have expectations about when and where we are supposed to be at some perfect time or place. But milestones can also be interesting ways to notice the world around you. What was going on at this point in time? What was important to me when I was in this place? Milestones mark a path forward and can show you the past path, where you have been. They can be important or minor, fun or difficult and of course the same marker can have different meanings for different people.
I like today's quote because it's a different way of thinking about milestones and marking the times of our lives. But it's also often helpful to look back and remember all that has happened across a lifetime.
Here are a few milestones I looked up today.
1933
"Franklin D. Roosevelt (FDR) is sworn in as the 32nd president of the United States, beginning his "first 100 days". In reference to the Great Depression, he proclaims "The only thing we have to fear, is fear itself" in his inauguration speech. It is the last time Inauguration Day in the United States occurs on March 4." https://en.wikipedia.org/wiki/Franklin_D._Roosevelt
(I thought this quote had something to do with WWII not the Great Depression. Always new things to learn.)
1943
"Oklahoma! is the first musical written by the duo of Rodgers and Hammerstein. The musical is based on Lynn Riggs' 1931 play, Green Grow the Lilacs. Set in farm country outside the town of Claremore, Indian Territory, in 1906, it tells the story of farm girl Laurey Williams and her courtship by two rival suitors, cowboy Curly McLain and the sinister and frightening farmhand Jud Fry. A secondary romance concerns cowboy Will Parker and his flirtatious fiancée, Ado Annie.
The original Broadway production opened on March 31, 1943. It was a box office hit and ran for an unprecedented 2,212 performances, later enjoying award-winning revivals, national tours, foreign productions and an Oscar-winning 1955 film adaptation. It has long been a popular choice for school and community productions. Rodgers and Hammerstein won a special Pulitzer Prize for Oklahoma! in 1944."https://en.wikipedia.org/wiki/Oklahoma!
1953
"June 2 – Elizabeth II is crowned Queen of the United Kingdom and the other Commonwealth realms, at Westminster Abbey." https://www.onthisday.com/events/date/1953?p=2
1963
"200,000 people march on Washington in support of civil rights; Dr. Martin Luther King delivers his "I Have a Dream" speech."  https://www.babyboomers.com/1963
1973
Top three movies this year: The Exorcist, The Sting, American Graffitti.  https://www.the-numbers.com/market/1973/top-grossing-movies
1983
Sally Ride made history in 1983 when she became the first American woman (and third woman ever) to go to space. Michael Jackson dropped his Thriller album, demand for chicken spiked with the invention of the Chicken McNugget, and the M*A*S*H finale became the most-watched TV show of all time. https://mamateaches.com/fun-facts-about-1983/
1993
Top grossing movies this year: Jurassic Park, Mrs. Doubtfire, The Fugitive, The Firm, Sleepless in Seattle.  https://www.boxofficemojo.com/year/1993/
2003
Most popular books: The Kite Runner, Harry Potter and the Order of the Phoenix, The DaVinci Code. https://www.boxofficemojo.com/year/1993/
2013
Top grossing Broadway plays: The Lion King, Wicked, The Book of Mormon, Kinky Boots. https://www.broadwayworld.com/grossescumulative.cfm?year=2013
2023
This past Saturday, we celebrated the 90th birthday of Sandra G. Paine, my Mom. A huge milestone encompassing way too many milestones to list them all. Happy Birthday, Mom. Here's to a life well lived.
What milestones have you seen in your lifetime? What interesting things have happened since you were born? If you think there haven't been any, you might take a stroll across the internet to see what you've missed of forgotten. I hope you enjoy it.
Take care,
Gage