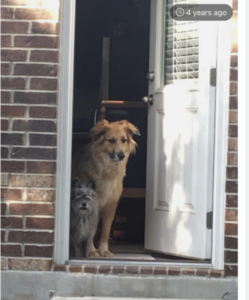 The technical definition for the change of seasons is at the time of a solstice (when the sun appears to reach either it's highest or lowest point in the sky) or an equinox (when the Sun crosses the earth's equator appearing directly above the equator). So using those technical definitions it's still summer in the northern hemisphere. If the temperature is the deciding factor well, in my part of the US it certainly feels like summer with 100 degree temperatures still the daily norm.
But psychologically, it's fall, at least it's the fall semester. (I know there is a system based on quarters, but I've lived life by the semester calendar since I was five years old so for me, the year is divided into semesters.) Students are back on campuses, all of the opening events are complete, and classes are well underway. Summer is over. Mostly.
Because there's one other marker of the end of summer – Labor Day. I've been hearing the 60's song "Sealed with a Kiss" a lot lately. Both it and the song "See You In September" are based in the idea that someone goes away for an entire summer and they come back to school after Labor Day. By that measure, we aren't quite there yet. Which means there's time for a bit more summer silliness before the summer is truly over and that means it's time for one of my favorite silly things. Yes, it's time for my favorite winners of the Bulwer-Lytton Contest.
For those of you who don't know about this revered contest, here's a description from the website. "Since 1982 the Bulwer Lytton Fiction Contest has challenged participants to write an atrocious opening sentence to the worst novel never written. Our whimsical literary competition honors Sir Edward George Bulwer-Lytton, whose 1830 novel Paul Clifford begins with 'It was a dark and stormy night.'" And for those of you who only know this from Snoopy, here's the entire sentence: "It was a dark and stormy night; the rain fell in torrents—except at occasional intervals, when it was checked by a violent gust of wind which swept up the streets (for it is in London that our scene lies), rattling along the housetops, and fiercely agitating the scanty flame of the lamps that struggled against the darkness."
Yes, one must love groan-worthy puns, the literary equivalent of dad jokes, and convoluted sentences to truly appreciate the winners, but since I do, I'm always on the lookout for the announcement of the winners around the first week in August. Next week, I'll return with new essays, random thoughts and quotes, and who knows what else, but this week before summer is finally, officially over, here they are, my favorite winners of the 2023 Bulwer-Lytton Contest.
Grand Prize
"She was a beautiful woman; more specifically she was the kind of beautiful woman who had an hourlong skincare routine that made her look either ethereal or like a glazed donut, depending on how attracted to her you were."
Maya Pasic of New York, New York.
Adventure Winner
The man squinted his eyes as the blistering cold winds battered his rugged face, his eyes darting about, desperately hoping, daring to dream that amidst the frozen wasteland, he would find the last Klondike Bar that he had hidden in his freezer.
Oliver Mauser, Jacksonville, FL
Children and Young Adult Literature Dishonorable Mention
Having attended Oktoberfest, taken in the beautiful foliage of New England, gone apple-picking, roamed through a corn maze, and visited a pumpkin patch, one thing was certain—Humpty Dumpty had a great Fall.
Mark Meiches, Dallas, Texas
Historical Fiction Dishonorable Mention
Sitting on the saloon stool, Cody quickly downed some liquid courage before reading what he thought would be grim news about his brother at the Battle of Shiloh, but the telegram turned out to be from that mysterious company who kept offering to extend his horse warranty.
Douglas Purdy, Roseville, CA
Western Dishonorable Mention
The cowpoke's lot —lonely nights on the prairie, strange saloons with stranger trade, weeks on end away from the home where the heart is—had its undeniable drawbacks, but there was a romantic simplicity to driving fifty head of Angus to market across the Great Plains that paid it all back, mused Pete McLaughlin as he notched his cabover Peterbilt into tenth gear, cranked up the Bob Seger, and settled in for nine hours on the I-70 to St Louis.
G. Andrew Lundberg, Los Angeles, CA
Odious Outliers Dishonorable Mention
The clouds drifted lazily through the crystal blue sky like cotton candy from last summer's county fair except that if a plane flew cotton candy the engine would ingest so much sugar that it would lock up the engine and force the pilot to make an emergency landing, perhaps in the river below where the body of a white male in his mid 50's with no identification floated face down, which is where our story begins.
Ken Hill, Elkville, IL
If you are interested in reading more such silliness, here's the link to the website:https://www.bulwer-lytton.com
I hope your semester, or your quarter is starting well and Happy New Year!
Take care,
Gage
PS The picture is of our dogs Wynne is the larger and Grayson, the smaller. It's an old picture since Grayson is no longer with us, but still a favorite. Checking things out.